Hilarious. Way to fight fire with fire.
There's a recent tradition of developers screwing with pirates—from releasing enormous, immortal pink scorpions on them, to booby trapping their games with glitches when they get cracked. This weekend, Greenheart Games, creator of Game Dev Tycoon, just blew the curve for everyone. This is fantastic.

As the title suggests, the game is about video games development. Greenheart is releasing it DRM-free, so this thing is sure to be pirated. Greenheart's Patrick Klug figured, why wait, put a cracked version on "the number one torrent sharing site," and sat back to watch what happened.

Something like 94 percent of the game's users were playing the pirated, cracked version that Greenheart itself had uploaded. But here's where the fun begins.

"As players spend a few hours playing and growing their own game dev company, they will start to see the following message, styled like any other in-game message:"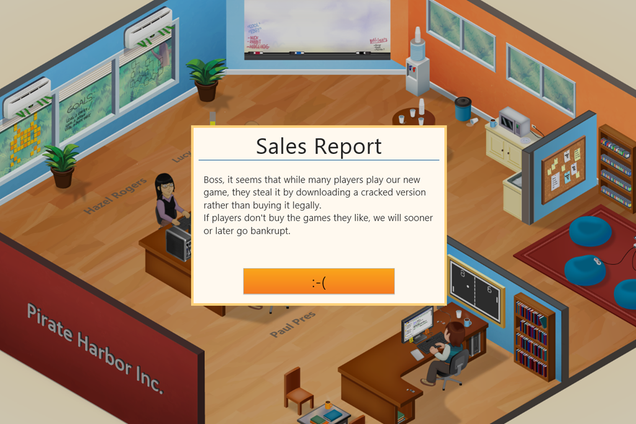 "Slowly their in-game funds dwindle, and new games they create have a high chance to be pirated until their virtual game development company goes bankrupt." The best part? The pirates complained about it.